An Iron Age shield which has been displayed in the British Museum for more than a century has been returned to Lincolnshire.
The Witham Shield, believed to date from 300BC, is described by experts as one of the finest examples of Celtic decorative art in Britain.
The bronze shield was discovered in the River Witham, near Lincoln, in 1826.
However, it was sold to a London collector in 1831 and has not been returned to Lincolnshire since.
The shield will be on display at The Collection of Art and Archaeology in Lincoln until 9 June.
Recent history of Witham Shield

The shield was discovered in 1826 by workmen dredging the River Witham between Washingborough and Stamp End Lock
It passed into the hands of the vicar of Washingborough, Humphry Waldo Sibthorp. However, his family swapped it for a book owned by London collector Samuel Meyrick
After Mr Meyrick died, the shield was bought by another collector, Sir Augustus Wollaston Franks. He donated it to the British Museum in 1872
The shield is acknowledged as one of the finest of its kind, comparable only to the Battersea Shield, which is also in the British Museum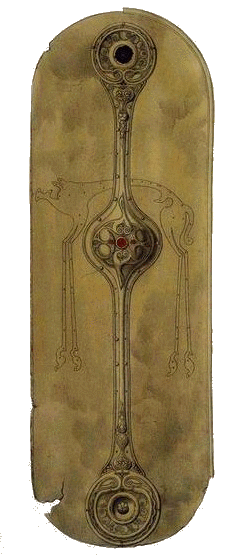 'Absolute masterpiece'
Collections access officer Antony Lee said: "This is something we have been negotiating with The British Museum over for years.
"It's a star object for them and, understandably, they did not want it to leave their display."
Mr Lee said visitors to The Collection were pleased to see the shield had been returned to Lincolnshire.
"It's one of those objects that has this kind of iconic status," he said.
"It's an absolute masterpiece and it helped lead to the rediscovery of Celtic art."
The shield would originally have had a wooden backing.
Its spine is decorated with corals from the Mediterranean.
Originally, it was also decorated with a piece of leather cut in the shape of a wild boar.
According to the British Museum's website, while the leather has rotted away, the boar's shadow remains as a different colour in the bronze.
"Today, the image of the boar has faded, but can still be seen if you look carefully," it said.
---
Sources: