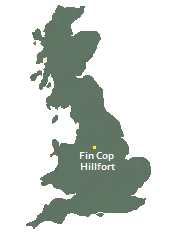 Dozens, maybe even hundreds, of women, babies and children were stabbed or strangled, stripped of possessions and tossed into the ditch that encircled the fort. The women and children were flung into the ditch at the bottom of the hillfort after dying of flesh wounds. The men were missing, either killed in battle or taken to one side to be pressed into military service or sold for slaves by their captors. Bones of cattle, sheep, pigs and horses were also found, showing that the fort also sheltered animals.
Then their attackers toppled a 13ft-high limestone wall over their broken bodies, covering the mass grave with a litter of rocks and soil.
The women and children are thought to have been slaughtered during tribal battles in about 440 BC. Experts believe the mass grave represents the first selective Iron Age attack ever found in Britain.
The hillfort consisted of a four metre-wide stone wall behind a rock-cut ditch, built as a defence against lethal weapons. The Fin Cop fort was probably part of a chain of related communities in the Peak District.
"For the people living at Fin Cop the hurriedly constructed fort was evidently intended as a defensive work in response to a very real threat," said Dr Clive Waddington, the Project Director for Archaeological Research Services. 'We excavated ten metres but there is 400metres of ditch around the site, and the implication is that could be dozens – if not hundreds – of bodies there'
"The ditches and fort were never finished. They had started to make a second wall but that wasn't completed. You can tell that it was a hasty thing – they were trying to rapidly build it and it was not done on time."
The lack of any skeletons at other hill forts may be due to geology. Bones decay slowly at Fin Cop because the soil is alkaline.
The project to investigate Fin Cop has been funded by the Heritage Lottery Fund, the Peak District National Park Authority and English Heritage.
Hundreds of volunteers and schoolchildren have taken part in the excavations since 2009, and the campaign won the Best Community Project at the British Archaeology Awards in 2010.
---
Sources and more:
Massacre at the hillfort: Mass grave that is challenging our beliefs about Iron Age Britain
Skeletons of women and children massacred in Iron Age battles found at Fin Cop in Derbyshire
Derbyshire Iron Age bones were of pregnant woman