This major student training and research excavation project focuses on the Iron Age hillfort at Burrough Hill, near Melton Mowbray in Leicestershire. Burrough Hill is the finest example of a large univallate (single banked) hillfort in Leicestershire and has protected status as a Scheduled Monument. This project offers much scope to shed light on the Iron Age occupation and exploitation of the region and to question transitions into the Roman period. The project is running for five seasons from 2010 – 2014.

Hillforts are widely seen as emblematic of the Iron Age, but are unevenly distributed; Burrough Hill is one of very few in the East Midlands, comparable in national significance to the important (but now destroyed) site at Hunsbury in Northamptonshire. A series of small archaeological excavations at Burrough in 1935, 1960, 1967 and 1970-71 show occupation from the Neolithic period (c.4000-2000 BC) to the 4th or even 5th century AD. The most intensive period was in the later Iron Age (c. 100 BC–AD 50) and, more unusually, in the 1st century AD; later use was sporadic at best .
Archaeological fieldwork since the 1970s has shown that Burrough Hill sits in a densely occupied landscape of enclosed farms, larger aggregated settlements and important ritual foci. This information provides a new perspective on Iron Age societies in a part of Britain once written off as sparsely inhabited and culturally peripheral.
Pottery research
An exciting related project jointly run by the Archaeology & Ancient History and Geology departments has received NERC (Natural Environment Research Council) funding for a scientific study of pottery and other fired clay from Burrough Hill. The broad aim is to analyse microfossils within clays used at the hillfort to determine their geological source. The microfossils define precise ages for the source rock which can be compared with geological maps of the UK. It is hoped that the results of the project will give some sense of how far pottery was moving in eastern Britain during the Iron Age. The results will shed light on how involved Burrough Hill was in networks of trade and exchange, and how that changed over time.
Creating a 'virtual' hillfort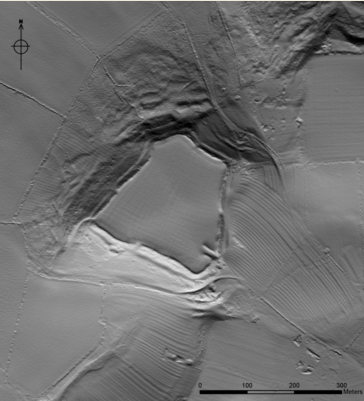 The University of Leicester commissioned the Environment Agency to undertake an air-borne LiDAR survey of Burrough Hill. LiDAR (Light Detection and Ranging) measures the height of the ground very accurately, and is a very effective way of mapping the surface of large areas of land. A pulsed laser beam mounted on an aircraft scans from side to side as the plane flies over the survey area, measuring between 20,000 to 100,000 points per second!
The image (right) shows the ground surface after all modern vegetation and buildings have been removed. LiDAR surveys through woodland in other parts of the country have successfully identified earthworks that are otherwise invisible from the air and even difficult to see on the ground.

---
Some examples of the finds from Burrough Hill:
---
Sources and More:
Archaeology, Geology and History of Burrough Hill – Leicestershire County Council
School of Archaeology and Ancient History at University of Leicester