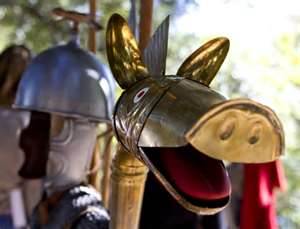 The Texas Coritani is an Iron Age Living History group headquartered in Central Texas. Our purpose is to reconstruct and portray the daily lives of Ancient Britons as it would have been in the period of time from around the third century BC through the first century AD. We do this through research, experimental archaeology and living history demonstrations.
The Iron Age is a fascinating period to explore. The tribes of Britain during this period show regional differences, and there are numerous sources available for interpretation, such as archaeology, numismatics (coins) and ancient texts.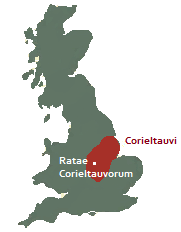 The Corieltauvi
The Texas Coritani borrows it's name from an Iron Age tribe that inhabited the East Midlands of England. Their capital was called Ratae Corieltauvorum, known today as Leicester. Their name appears as Coritani and Coritavi in Ptolemy's 2nd century Geography. Relatively recently. an inscribed tile found in Churchover calls the administrative district Civitas Corieltauvorum, indicating that the true form should be Corieltauvi. All this considered: Corieltauvi  is synonymous with Coritani.

Our Activities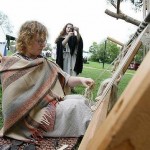 Living histories are meant entirely for education of the public. Such events are aimed at portraying the lifestyle of people of the period. We organize such displays in an encampment or display area at an event. Such exhibits are specifically organized to inform the public and so might include an emphasis on handicrafts or other day-to-day activities. Considerable research is often applied to identifying authentic techniques and often recreating replica tools and equipment.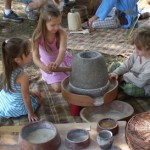 Other than our presentations, our members actively persue many handicrafts throughout the year that are relevant to this period. Activities include blacksmithing, bronze casting, pottery, textiles, cooking, leatherworking and boat building. We regularly meet to work together on any variety of projects and share our research. Testing and using our Iron Age equipment is one of the most rewarding aspects of Living Histories: to get a glimpse of how our ancestors lived over 2000 years ago.